Legato String Skipping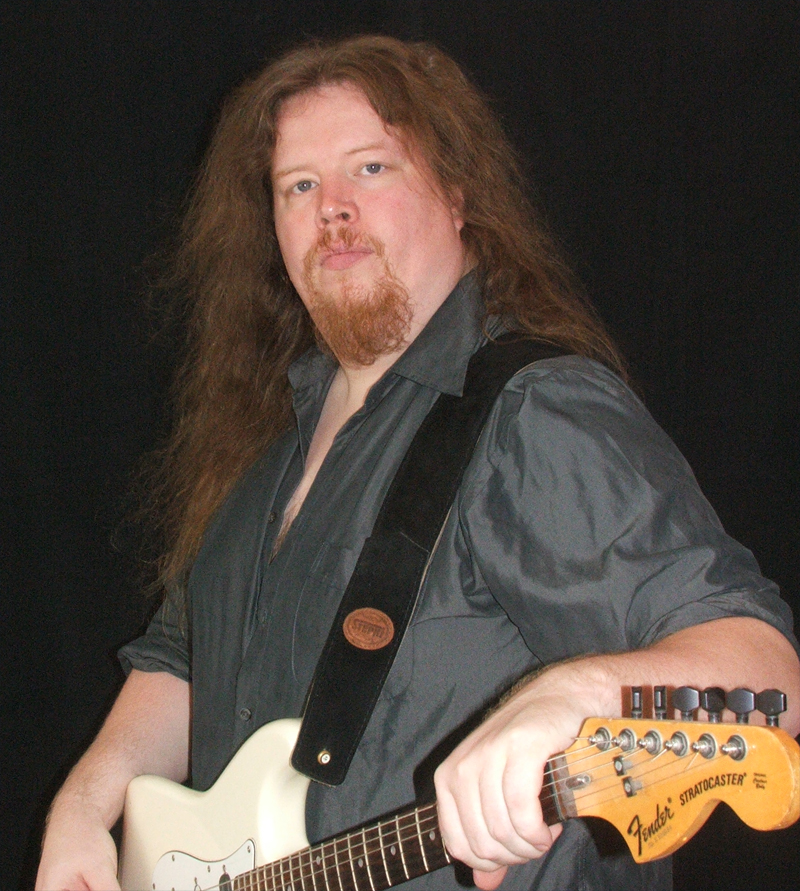 using the pentatonic scale and the blues scale
String skipping is a cool technique to use when you feel that your licks all sound the same. String skipping means that you're "skipping" strings so to speak. I've used the key of c# minor to utilize these licks. Carefully read the tablature how to execute each lick.
Lick 1) This one can be a bit tricky to nail because of the position shift.

Lick 2) This one is played in "Quintuplets" meaning 5 notes per beat

Lick 3) Here's a cool tap/slide/bend lick you will have a lot of fun with.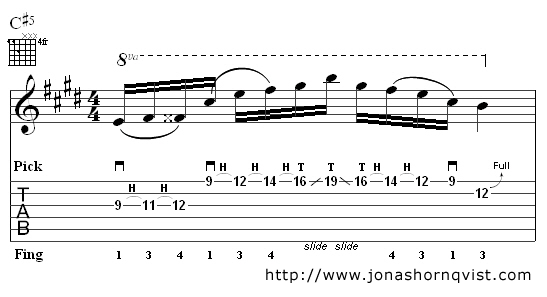 Jonas started playing the guitar 1983 at the age of 12, inspired by guitarplayers like Ace Frehley, Michael Schenker, Gary Moore. A year after Jonas started playing guitar, Jonas put his first band together and played live at some schools and even some backyard partys. Summer of 1985 changed Jonas playing totally when he heard Yngwie J Malmsteen for the first time. Jonas also discovered jazz/rock guitarplayer Al Di Meola that summer, and this lead to an almost obsessive guitar practicing period since Jonas wanted to take his guitarplaying to a higher level.

In 1987, Jonas was in the biggest rock band competition ever held in Sweden, playing live in front of 2500 people with his band Calilio. A year later his band signed a record deal which resulted in a single that sold well over all of Europe. By the end of 1991, Jonas disolved his band and started to work on more progressive songs, during 1991 Jonas also recorded a 8 song instrumental demo which sold over 2000 copies world wide.

This recording was called "Hörnqvist project". The only members were Jonas and his brother on drums. In 1993 Jonas put together the band he still have today, Treasure Land. In April 1996 Treasure Land signed a world wide record deal with German label Modern Music. Two cd's later ("Questions" released 1997 and "Gateway" released 1998) Treasure Land parted ways with the label.

Treasure Land also participated in two tribute cd's:

Power from the north – Sweden rocks the world 1999

A guitar odyssey – A tribute to Yngwie J Malmsteen 2000

Samples can be found here: http://www.treasureland.nu. Treasure Land is currently writing songs for a 3rd CD after some years of doing other music stuff. Jonas is also currently writing songs for an upcoming instrumental CD. Style on that demo can best be describes as neo-classical thrash metal! Samples can be found at:

http://www.myspace.com/jonashornqvist

Jonas has also written 3 books about "Guitar technique", written for the Swedish market. There will also be 3 instructional dvd's released sometime during 2007.

© Jonas Hörnqvist 2006