New Forum Gets Mentioned!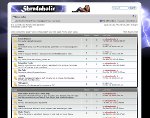 http://www.truthinshredding.com/2010/03/news-shredaholic-has-new-forum.html
thanks to Laurie Monk at Truth In Shredding for spreading the word about our new forum, the more people we can get on board, the better it will become!
also, thanks to Paul Hackett of GuitarNoise.com for adding a homepage link to Shredaholic, we really appreciate it.