Dream Theater – "Octavarium" – Album Review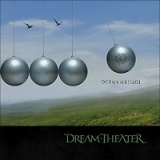 Tracklist
1. The Root of All Evil
2. The Answer Lies Within
3. These Walls
4. I Walk Beside You
5. Panic Attack
6. Never Enough
7. Sacrificed Sons
8. Octavarium
What can I say about "Octavarium", the 8th studio release from acclaimed progressive metal band Dream Theater? Well, it's a really good album, but honestly, it could have been better. Granted, this album is unlike anything they've ever done, but I think the band went a little overboard with the changes. This album is more melodic and keyboard-driven and has some great solos from keyboardist Jordan Rudess, but there are a lot less shred solos from guitarist John Petrucci. Don't get me wrong, there are some kick-ass rhythm parts. I guess you could say that this album is more modern rock/metal than progressive (you know, with the time signature changes every ten seconds, lol).
Some songs are great, such as "The Root of All Evil", "Panic Attack", and the 24-minute prog epic "Octavarium", while other songs like the "The Answer Lies Within" and "I Walk Beside You" are pretty good, but come off as a little bit bland. To me, the album seems to have a darker side than the others. This album is very diverse, emotional, and has a LOT of hidden meaning, both in the songs and in the artwork in the CD booklet. As far as the art goes, there are literally hundreds of different speculations on the meanings and motifs behind it, both on the Dream Theater forum on their website and on drummer Mike Portnoy's forum. Some even say this is Dream Theater's final album, but most people highly doubt it, or at least hope that's not the case (I know I hope that's not the case!)
Overall, this is a really good album once you listen to it a couple of times. Definitely worth time and money.
© David Katilius 2005
for more information, visit www.dreamtheater.net