Quick-Fix: Re-Spraying Your Guitar
Posted by Shredaholic on 9/02/05 • Categorized as Tech
How to paint a guitar in the colour of your choice.
There are several different ways to paint a guitar. For this website I'm going to be concentrating on the easiest way, and if anyone out there wants to have a go at painting their own guitar you'd be better following this easy way rather than a complicated one.
DISCLAIMER: This guide is not exhaustive in the slightest. I have provided this as a quick reference as to how to paint a guitar. For fuller, more in-depth guidance, try ordering the e-books coming soon from Shredaholic.com. Also, my links page shows websites which have more comprehensive guidance. I will not be held responsible for anyone who does not achieve their desired finish.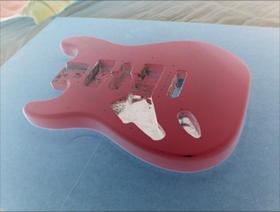 Step 1
Take the gloss lacquered finish off of the guitar. As you can see in this picture, the sheen has been removed.
Step 2
You need to sand the body down so that the primer will stick evenly to the body (and not run off the sheen), and then the paint sticks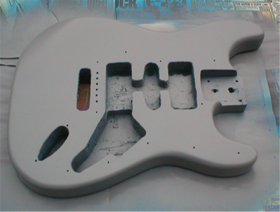 to the primer. The advantage with using aerosols is that they're cheaper than a professional spray gun and readily available – you can get them from most shops that sell bits for cars, as car spray paint is the same stuff!
Tip: To avoid doing what I had to do (I had to paint in my garage due to the 'great' British weather…) suspend the guitar body from a washing line or similar, using a bit of wire through the neck holes. This way you can walk around the guitar and get both sides of the guitar done at once.
Leave this to dry then build up another couple of coats, until you have a grey, matt-finish guitar.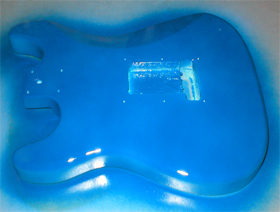 Step 3
Sand the body, start spraying the paint
Tip: Do not worry if your first couple of coats do not seem to be matching to the colour you bought. They will react with the primer (and also the colour underneath) and probably give you a lighter coat. This will disappear with every coat you apply. Remember you will probably need five or six coats to achieve a full, gloss finish.
The following pictures show the colour differences between coats – the first picture is after only two coats,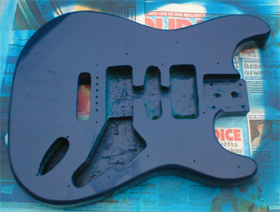 the second is after five. (This is the guitar from project-strat.com)
Painted. Notice the difference in colour between coats (the more coats the deeper the colour).
Step 4
Once you have applied the final coat, and the finish is to your liking, leave to dry overnight. Tip: If you are planning on applying any custom decals to the guitar, you may wish to apply them now, so that they will be under the lacquer.
At this stage it needs to be clear coated. When this is finished, and you have applied the final coat of lacquer, leave this to dry for a day or two. Once this has dried, pick it up and admire your work. Congratulations! You have painted your guitar body.
Van Halen build notes
As my guitar was going to be a replica of Eddie Van Halen's guitar, there are details to note. The nature of the design means that I had to use 2 different colours, black and white. In order to paint this successfully I had to buy black and white spray paint cans, and different types of masking tape. The tape widths were 3/4 inch for the wider stripes and 1/8 inch for the thinner black stripes. I managed to buy a roll of 3/4 inch tape, but for the 1/8 inch tape I had to go to my local model shop and purchased yellow 'Tamiya' masking tape which I used to make model kits with when I was younger (this still had to be cut down to size however).

After sanding down the body of my guitar, I applied the primer and around 5-7 coats of black paint. Make sure it covers fully and you get one uniform colour and sheen. The next day I applied the masking tape, pressing down firmly to secure it in place and prevent paint running under it. After that I applied around 7 coats of white paint. I was actually surprised by how well the white paint covered, in my experience with enamel paint, white was always a real pain in the ass to use.

I left the guitar with no gloss finish like the original, but now I regret doing so. It is important to protect the finish in addition to making it look glossy. Logos from T-shirts I've worn while playing have rubbed against the finish of the guitar and left some sort of green residue, and is incredibly hard to get out. The guitar also gets dented easier. If you feel you can live with that however and want to go for originality, by all means do so.

Now all that remains is to put in a maple neck, a black scratch-plate (pick guard) and a Seymour Duncan custom E.V.H pickup for that authentic Van Halen look and sound.
(Thanks to project-strat for information for the article)
Tagged as: acrylic, Eddie Van Halen, EVH, frankenstrat, lacquer, nitrocellulose, paint, painting, refinishing, respraying, spray cans, spraying, van halen

44 Comments
Trackbacks