Tritone Substitution for Fun and Profit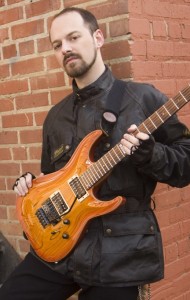 Jazz music is your kind of music but it seems so complicated? Tired of deciphering odd-looking chord symbols and how they relate to the fretboard? Too many chord patterns to learn?
The secret to understand these matter is to become familiar with Jazz substitutions. The idea here is to start from a simple chord progression and make it more complicate (and interesting) by the application of a few rules that at fist sight look really complicate themselves. These rules "substitute" a chord with another, hence the name. Once you can create chord progressions this way it's also easier to remember and play existing chord progressions, since you understand them at a deeper level.
The problem is of course to understand these odd-looking substitution rules. Most resources (articles, book, teachers…) are not really helpful here, especially when they start their explanations with phrases like "clearly, C9/b5 without a root is the same as Gb7/#5". Clearly? Listen mister, what I wanted was to play some music, not learn math formulas. (BTW, I did not made that up, it's a true quote from a book that I will not name).
Good news everyone: it does not need to be that way. All these Jazz players who discovered these substitution "rules" did not have to get a PhD in math in order to understand them. Which makes you think that the problem is not the rules per se, but the way that they are explained. And in fact, substitution rules are quite natural if you sit down a moment and try to understand WHY they work.
In the video below I will show you how to use one of these "scary" substitutions to make a standard Blues progression sound like a complicated Jazz. Best of all? It's easy, so easy that once you see what I'm doing you can IMPROVISE the chord shapes rather than using chord shapes that you committed by hart.
Watch this video and you'll see what I mean.
What should be your next step? Well, the first thing to do is definitely to pick up your guitar and play all this! This few shapes will be under your fingers in no time.
The beauty of this approach is that you can apply the substitution straight on the fretboard. This is how great Jazz guitar players do it: they don't "calculate" the chords and then find them on the fretboard: they know how a substitution look on the fretboard so that they can apply it immediately.
About the Author
A professional guitarist, teacher, and composer, Tommaso Zillio enjoys particularly writing about music theory and its application to guitar playing