Clay Foster – "A Voice In The Wilderness" – Album Review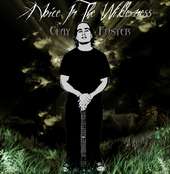 Tracklist
01. Intro / Wake Up
02. Matador
03. Bust Open and Bleed
04. Lauren
05. Cadillac Dreamz
06. Corner Pocket
07. Voice Mail
08. Bust a Move
09. Crystal Planets
10. To Know You Lord
Hey everybody, today I will be reviewing this great unique album by the great guitarist Clay Foster. Let's get it under way!
This album is a real treat to listen to; it is very unique sounding and combines lots of different styles together but with an overall jazzy feel and rhythm to the music. You can here bone crunching heavy riffs and great intense shred to beautiful clean play and melodic passages; also you can here some really nice funky grooves and riffs which add even more variety to the album. The guitar playing is very fluid and clean and a joy to listen too. All the songs are constructed and flow together really well with each other throughout.
As stated before, this album has a big jazz feel to it, I would call it jazz fused with a big metal influence making it all the more unique. The shredding blends in really well with the music, with great use of speed and sweep picking. All the other instruments are really well played as well, with great groove from the bass and the drums and well fitted brilliant keyboard work.
This album is a real must to listen to, especially if you like jazz-fusion with guitar, in this case fused with a lot of metal and shred. The music is complex, well written, catchy and is also very melodic and a lot of the time can be relaxing to listen to on the calmer parts, but also packed with great metal shred mayhem!!! Definitely Recommended.
to visit Clay's official MySpace page, go to myspace.com/clayfosterguitar