Scott Allen Project – "From The Blindside" – Album Review
From the Blindside
Work in Progress
Adrenaline Rush
On the Inside
Broken Mirror
I'm Your Boogie Dude
The Bastard Son of Disco Dan
The Long Road
Windows of Heaven
Making an Impression
It's All About the Bling
Bodega
Close to You
The new album from Scott Allen Project has been played a lot around Shredaholic HQ recently, so we better fill you in on how it sounds! Featuring 13 tracks it's pretty comprehensive in covering a wide range of song paces and styles ranging from dark, heavy metal based riffing to more mainstream pop sounding compositions.
From The Blindside, the title track sets the agenda with some cool harmonised guitar licks and riffing that really changes pace and feel as it progresses, with some fantastic unorthodox, darker sounding licks transitioning back to a positive feel. Excellent displays of fluid, legato technique and some exceptionally fast shredding licks will be sure to keep your ears engaged, and that's something that is consistent throughout the whole album. Andrenaline Rush is possibly my favourite use of harmonised guitar, although throughout the album its used tastefully and to great effect.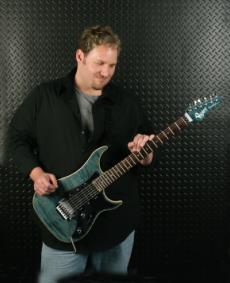 On The Inside is a track I have to admit I wasn't expecting to hear but really enjoyed, something that is probably best described as a shred ballad, featuring piano, acoustic guitar and screaming lead guitar. Here Scott Allen shows not only that he can comfortably cope with a more conventional style of songwriting but also that there's a nice depth and range in his ability to mix virtuoso guitar with different song styles.
Consistently throughout the album theres a wide range of different styles of music, so you're not left feeling bored because the lead is always a distorted guitar, which is a pretty important box to tick in instrumental albums. The order of tracks and consequent shifts in pace are well planned throughout the album, and just about every type of technique you'd expect in a virtuoso guitarist's arsenal is not only performed flawlessly but also used in an appropriate context.
If there was anything I'd pick out that as a listener I'd like to hear differently on the next Scott Allen Project album, it would be allowing the guitar to back off just a little at times in certain songs, and let the music breathe a bit. With instrumental albums it can be really hard to strike that balance, since the guitar is relied upon to drive the song forward, and also provide that virtuoso element to excite shred fans, but it has to be said that Scott mostly gets the balance right, especially on the faster, shorter tracks such as I'm Your Boogie Dude.
Overall this was an enjoyable album to listen to, with excellent guitar work as you'd expect from SAP and also excellent songwriting. Although the faster tracks were performed flawlessly, the tracks that stood out most to me were the slower ones (such as On The Inside, The Long Road and Bodega), where Scott seemed to have a complete grasp of how to take the lead guitar and use it as a compositional tool to really push some melodic buttons, as opposed to having the song focused around the guitar.
Verdict? Definitely recommended.
– Richard Baines