Dokken – "Under Lock and Key" – Album Review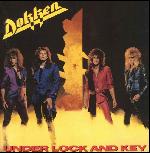 Tracklist
1. Unchain The Night
2. The Hunter
3. In My Dreams
4. Slippin' Away
5. Lightnin' Strikes Again
6. It's Not Love
7. Jaded Heart
8. Don't Lie To Me
9. Will The Sun Rise
10. Till The Livin' End
Despite having sold over a million copies in the US, Under Lock and Key is surprisingly not that well known about amongst many metal fans today, but this classic album from 1985 has to be one of my all time favourites. The quality of songwriting is excellent, and one could argue that this is a must have album for any fans of the mid-late 80s hard rock and metal that was so influenced by Van Halen.
Popular shred guitarist George Lynch was a member of Dokken and this album features his virtuoso playing heavily, complete with some of his best guitar solos; Unchain The Night and In My Dreams in particular have amazing guitar work on them by Lynch. The riffing is also fantastic on this album, Lightnin' Strikes Again and Don't Lie To Me have extremely memorable riffs that make the album stand out greatly.
The album also features some softer ballad styled songs, highly influenced by the style of music that was prevalent at the time but still fairly distinct from other bands; this is why Dokken were such a strong band, since the weaker songs are still good songs in their own right when listened to separately from the rest of the album. It's Not Love is an interesting song that creates a strange 'seedy' feel that is rather different from your average sex-charged Motley Crue tune.
Production on the album is a very (dated?) 80s soft rock style yet is still good for its time, every instrument on the album comes through clearly, and if you're a fan of music like Dokken, this style of production is probably as good as or better than the music you're currently listening to. The guitar isn't over compressed like many later rock LPs so the raw tone of Lynch's Marshall comes through nicely.
Overall though the songs on this album are all either good or excellent, and only held back in part by slightly cheesy lyrics at times. If you're a fan of hard rock, metal etc or fancy checking out some great guitar work in the context of a song then you could do a lot worse than picking up this album.
© Richard Baines 2009