Mike Gallagher – "Extreme Guitar II" – Album Review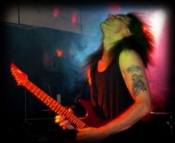 I recently had the great honour of being introduced to a great melodic guitarist, and this is one fine album of pure melody n' shred! The average length for each song clocking in around 2 and a half minutes each with easy-on-the-ear melodies and great backing riffs, this is really recommended for fans of upbeat sounding melodic shred guitar.
The album kicks off with the great "Written in blood" which features awesome riffage followed by perfect catchy melodies. Lovecrazy is another great uptempo sounding song with yet more catchy melodies! The rhythm on this album is also top notch, songs like "Passport to hell" and "Dead man's curve" show this, with fast little interlude licks inserted with the riffs. Other notable tracks include "Prey", "Spider's groove" and "Everything you are" but hell, they're all great!
This album is destined for use in TV and Films, and I can see it being used a lot! If I were a producer I'd be using this all the time, it could really help make a great theme tune for a TV programme or add a lot to a scene.
Also, as the songs are fairly short in length it provides a better experience for those who get tired when hearing long songs. Overall the technical guitar playing both rhythm and lead on this album is that of high standard, the production is clear and sounds clean and great, and most importantly, the music kicks ass!!! Definitely worth checking out, recommended!
for more on Mike, and to preview this album,
check out his website at
http://www.mikegallagheronline.com/
© Richard Niczyperowicz 2005