Lelio Padovani – "The Big Picture" – Album Review
Tracklist
1. Escape
2. The Novel
3. On The Beach
4. The Brave Melody
5. Serna's Diary
6. The Big Picture
7. 22 Novembre
8. Into The Unknown
This is Lelio's new full length instrumental album, aside from his music career Lelio is also a teacher, and has been featured in a guest column in Guitar World magazine
Escape
Starts of with some nice licks, and some good runs. Harmonised guitars add a nice affect, sounds very Frank Gambale like, very jazzy. Sounds slightly neo-classical in the middle of the song with some pedal tone licks. Solid opener.
The Novel
Nice synth intro, guitar comes in to follow the melody line. More catchy melodies here. Some nice shredding of speed picking and sweep picked arpeggios here too. More pedal tone licks here too, fits in well, changes the mood well to a more moody feel, then back to more melodies to cheer the listener up. Great track.
On The Beach
Nice melodic intro, into what sounds like a synth effect, sounds very jazzy, the key word here is jazz. Nice song.
The Brave Melody
Great licks in this one, once again very jazz orientated, great phrasing of notes too in this one.
Serena's Diary
Nice clean melodic intro, distortion guitar kicks in and a little synth is added in the background to create a greater effect, excellent guitar licks. E-bow is used quite a lot throughout this one, creates a nice effect over the guitar licks. Great song.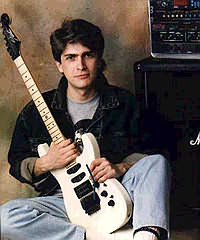 The Big Picture
Starts off quite heavy with a cool riff, with some nice clean licks on top. Goes slower for a little, then speeds up, bass is heard pumping throughout this song, very nice. Slows down again, nice variation of tempo changes in this song. Tempo increases again with the heavy riff and nice clean licks on top. Great track.
22 Novembre
Nice acoustic intro, very melodic, another guitar enters, adding more feeling to the song. A little synth enters in the song adding more of an effect. Slightly eerie sounding this track. Nice lead licks over the backing, more synth work applied and used to great affect. Great song.
Into The Unknown
Starts of with nice sound pedal tones on what sounds to be a keyboard, guitar enters and follows it, very nice sounding. Then we go into a more laid back feel with a lead solo over the synth/keyboard chords. Nice licks throughout this one. Great ending.
Overall I thought this album was very good, some very nice licks, if you like jazz-fusion and instrumental rock we think you'll really love this album . Great stuff. Recommended.
© Richard Niczyperowicz 2005
for more information, visit  http://www.leliopadovani.com/