Ty Oliver – "Healed Through Time" – Album Review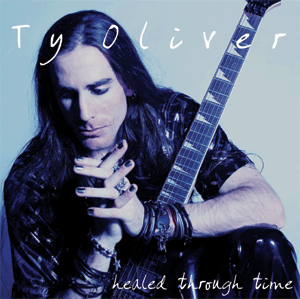 Tracklist
1. Lost In Thought
2. Surrounded By Beauty
3. Driven
4. So Softly
5. See The Light
6. Race Day
7. All My Tears
8. Inside Your Heart
9. After Dark
10. Strings From Heaven
Lost in Thought:
Starts of with a nice clean melody, then distortion kicks in with a nice lead solo, very heartfelt. Then it breaks into what sounds like the main melody of the song which is really nice sounding, with harmonised guitars to give a better effect. Some shredding follows with tapping and speed picking used, also some whammy bar tricks fitting the song nicely. Back into the melody it perfectly goes, breaks into a new guitar solo with more shredding applied, very nice and clean playing. Ends with clean lead over the clean backing. Solid opener.
Surrounded By Beauty:
Starts off with more clean playing, goes into a very melodic lick. A great lead solo follows; you can tell Ty poured his heart into this one! More brilliant lead work with this time some shredding inserted, fitting the song nicely. Back into the main melody/lead we go and very nicely done it is. Great track.
Driven:
Starts off very upbeat and distorted with a good riff and some lead work over the top used with a wah pedal, nice melodies follow. Then the main melody, very melodic, it's great! This is what true guitar playing is about. Back into more wah pedal lead work with some shredding inserted. Great melodies throughout building up to the great main melody of the song. This is the heaviest and fastest song so far on the CD. Plenty of shredding here too, great technique of alternate picking and tapping. Awesome track.
So Softly:
As the title says, this track is soft and gentle, starts off with a nice clean intro with a lead solo on top which sounds great. Great melodies follow. The song is slow throughout with great melodies and duel harmonised guitar make it sound extra special. Plenty of lead solos, towards the end a little shredding inserted and nice harmonics as the song breaks down into the outro solo. Lovely song.
See The Light:
Starts off with a nice lead solo, some very great sounding shredding comes into play, goes really well with the backing, sounds like a slight level of delay is being used which gives it a nice effect. The shredding technique reminds me very much of Satriani. A very gentle and calm song. Great track.
Race Day:
Starts off upbeat with a cool riff, some lead work with the wah pedal enters nicely accompanying it, nice melodies done with the wah too. Some nice shredding inserted in too, flawless technique in the speed picking and tapping. More harmonised parts are added too for better effect. Wah seems to be used a lot on this song on the lead guitar. Nice track.
All My Tears:
Starts off very minor and sad, a nice clean intro followed by a great heartfelt lead solo, great melodies here. A very slow and soft song, Ty really puts his heart into the track. A little more Satch esque shredding is inserted here; I'd be surprised if he wasn't a big influence. Great song.
Inside Your Heart:
Great opening lead solo, followed by more melodic playing. Another very heartfelt track, a slow, calm song. Good track.
After Dark:
Bass is nice and loud in the intro, with a quiet palm muted riff then a lead part comes in. Then the song speeds up tempo with drums and guitars going up a notch, lead plays a solo on top with some great melodic playing. A shredding section commences with again excellent technique. Very good main melody in this song too. Probably the most shredding on the album occurs on this song. Great track.
Strings From Heaven:
Opens with a heaven-like intro with synth (like the title says!) and lead comes in over the top of it. Some great lead work here, nice melodies. Some more great shredding appears too with a nice delay effect making it all echo. A great ending to an impressive album.
Overall I really like this album, Ty has the technique and a good ear for melody, I enjoyed listening to his work. Great Job!
© Richard Niczyperowicz 2005