Cyril Lepizzera Group Arianrod – "Smile Has The Death" – Album Review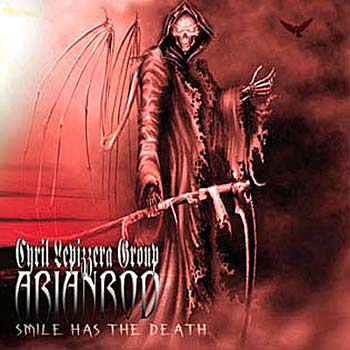 Track Listing:

01. The Castle Of The White Shadow
02. The Eternal Promise
03. My Last Will
04. Smile Has The Death
05. No Escape From Hell Part I
06. The Call Of The Banshee [mp3]
07. Draped In The Moonlight
08. No Escape From Hell Part II
09. La Grande Sarabande In D Minor
Featured again here on Shredaholic is the great guitarist Cyril Lepizzera, this time with a review of an album he has done with an ensemble group called Arianrod.
It is interesting to note that this album also includes vocals, done with good variety. Right from the first track, ''The castle of the white shadow'', we can hear the dark brooding, menacing male vocals followed by female operatic vocals creating a dark sounding contrast in the music.
The guitars along with the music also have a dark sound to them, a lot of dissonant sounding chord progressions and melodies are featured on this album. Cyril's ear for melody is also present again with some great lead guitar work, ''The Eternal Promise'' shows this. The riffs are definitely metal with some riffs and solos even sounding quite Yngwie Malmsteen esque, great technique.
The title track, ''Smile has the death'' adds more variation to the album with its lengthy clean guitar into, then kicking into distortion guitars keeping with the slow tempo of the song. A nice arpeggio section is included in this song also, starting that section with slow arpeggios then going into ferociously fast sweep picking.
My favourite track would have to be ''Call of the Banshee'' I enjoyed the melodic work in this track, nice chord progressions and melodies featured here. ''No escape from hell part II'' also has some cool guitar work particularly towards the end of the song.
Also to be noted is a cover of Georg Friedrich Haendel's ''La Grande Sarabande in D Minor'' to finish off the album, which is a well done rendition.
Overall this album is full plenty of dark, gothic sounding metal, with keyboard, female opera vocals, menacing metal vocals and of course plenty of shred guitar. Definitely recommended.
for more info, visit http://www.cyrillepizzera.com/