How To Set Up A Floyd Rose Locking Tremelo System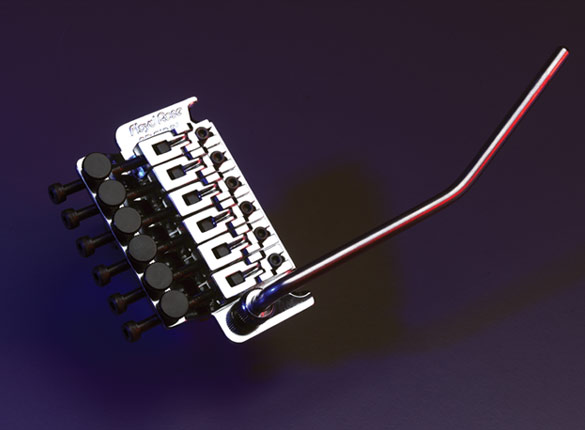 by ozzuk
This is a guide, to try and help those Floyd Rose users, who are having trouble setting up their Floyds.
You will need a 3mm Allen wrench, a 2mm Allen wrench, wire cutters, a Phillips head screwdriver, I use a Roadie Wrench all in one tool very handy for Floyd users.
Also I used a tape covered battery, and pencil, doesn't really matter, but wrap it in tape, this makes sure the finish of the guitar does not get damaged.
What you can do to start is unlocking the locking nuts, then lower the bar, and place the battery in the cavity.
Now remove the bar as it will get in your way.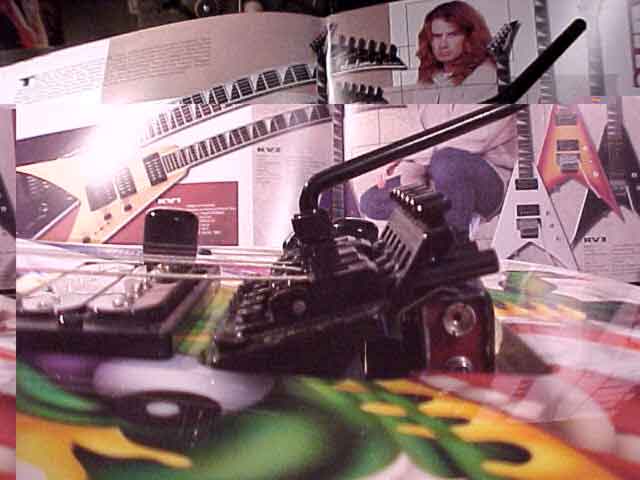 Now all you need to do is unlock the string block screws, with the allen wrench 3mm.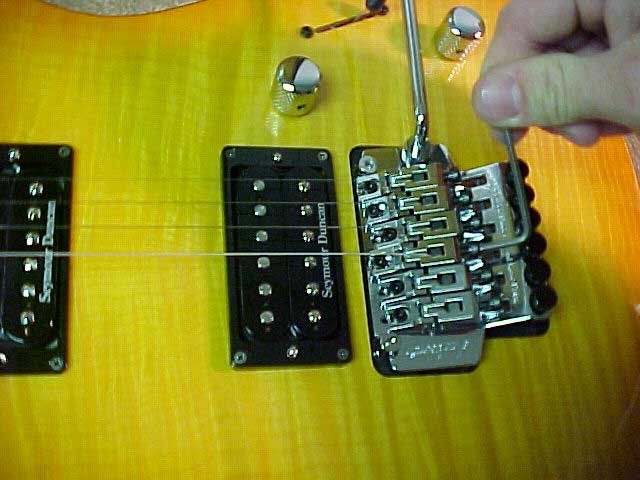 What you can do is clean the trem and frets with the tooth brush just to get the dirt off of them. You should condition your fretboard every few months to stop it from drying out, if it's unfinished (eg. rosewood, ebony fretboards).
It's also good to clean the trem with the toothbrush as well, just make sure it's clean or you have another one.
And you should oil the trem screws, and fine tuners, not too much, normal household oil should be fine.
Then restring the Floyd replace the bar pull down on it take out the battery, and replace this with the pencil or dowel.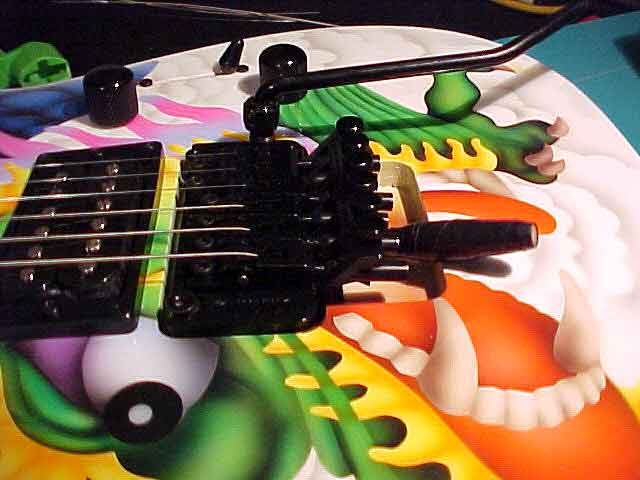 What you need to do now is retune the strings, there are two ways of doing this , the first option is to tune two steps lower while the bar is slightly raised, lock the nut, then take out the dowel/pencil.
After the re-moved the trem should be slightly under pitch now tune up.
Or you can take the dowel up tune just under pitch, always tune up with a locking nut guitar.
These Images are from Easton Guitars, untill I can get my own, so big thanks to Kevin Easton whose this guide was based off.
The original Tech Tips page is here
© Owain Evans 2005

5 Comments