Artists For Charity – "Guitarists 4 The Kids" – Album Review
About the CD:
Guitarists 4 The Kids offers over 79 minutes of music brought to you by some of the world's most respected and talented guitarists and artists and features both instrumental and vocal tracks, displaying a wide range of musical styles including Funk Rock, Jazz Fusion, Punk, Blues, Flamenco, and Experimental / Ambient. The CD also includes a couple of rare bootlegs and previously unreleased songs to offer something fresh and different for the eclectic music collectors.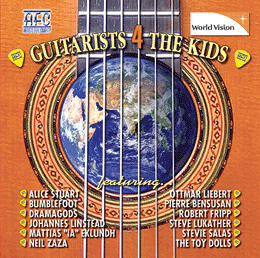 Tracklist
01. Guitarists 4 The Kids (various artists)
02. Blind by Stevie Salas
03. So'K by DramaGods
04. Toccata in Dm by The Toy Dolls
05. This Spring Release 10,000 Butterflies by Ottmar Liebert
06. Journey To Alcazaba by Johannes Linstead
07. Highway by Alice Stuart
08. I'm Buzzed by Steve Lukather
09. Breaking by Bumblefoot (aka Ron Thal)
10. Zoo Me by Mattias "IA" Eklundh
11. Fargo by Neil Zaza
12. Falafel a Montsegur by Pierre Bensusan
13. At The End Of Time by Robert Fripp
Well this is certainly an album packed full of plenty of talented guitarists contributing to this charity album for World Vision. The fact that it features different guitarists with their own tracks makes this album also very varied in style, which I think is great. A lot of it has a melodic rock/shred guitar vibe to it.
The first track on the album ''Guitarists 4 the kids'' is a complete tour de force of great shredding improvisation with lots of guitarists trading off leads with each other, brilliant range of playing style's to be found here, and lots of tasteful licks.
There is some great notable guitarists on here, Nuno Bettencourt plays on the very catchy funk rocker, ''So'k'' with his band DramaGods, the funk rock elements in his style are very much present throughout. Bettencourt also wrote this song. The Toy Dolls do a very cool take of ''Toccata in Dm'', with a heavy punk/metal vibe to it.
Again this album is very varied, we even get a very high quality flamenco style piece by Ottmar Liebert entitled ''10,000 Butterflies'' which showcases great flamenco technique and melodic songwriting. Another beautiful piece of the same style as the last track, which the genre is classed as ''Nouveau Flamenco'' is by Johannes Linstead and his amazing track ''Journey to Alcazaba''.
A really catchy blues piece by the name or ''Highway'' by Alice Stuart is very well done, great playing and vocals.
The always amazing freak guitarist Mattias ''IA'' Eklundh shows his outstanding and unique style with the track ''Zoo me'', lots of plenty crazy and great guitar work, original and accomplished work here.
Overall this is a great album full of varied styles and genres of great guitar playing, and it is for a great cause. Show your support and purchase this disc!
©  Richard Niczyperowicz 2008