Francesco Fareri – "Suspension" – Album Review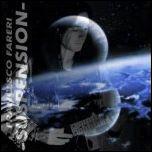 Tracklist
1. Suspension
2. Pointbreak
3. Introspective
4. Cyborg
5.Secrets
6. Paradox
There's really not enough to say about this album, so I'll give what I can.  "Suspension", Italian shred virtuoso Francesco Fareri's 6-song EP, is absolutely mind-blowing.  It is a shred album like no other.  It's a treasure trove of faster-than-light alternate picking, arpeggios from hell, unbelievable tapping, and much more!  The speed at which this guy flies around the fretboard is absolutely unreal.  Yngwie Malmsteen and Michael Angelo are nothing on this dude.  If you're into neoclassical players who go beyond the usual speed limit, get yourself a copy of this album.  You can order it on his website under the "Order" section.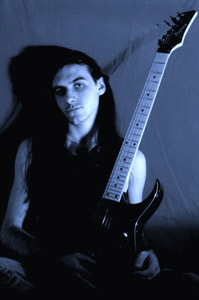 The album starts off with the title track, "Suspension" (see videos page).  The intro is a beautiful piano/keyboard melody, then the drum machine kicks in with a fast double-bass beat.  After that, a single note is held, then all hell breaks loose.  Francesco starts us off with staggered-ascending D minor arpeggios then goes into his shred frenzy.  You can tell that the whole album is going to be pure bliss from here.  No song is deficient of soul and emotion, as portrayed especially in "Pointbreak", "Introspective", and "Secrets", in which Francesco employs a tapping technique on a clean sound throughout the whole song.  There are, of course, your wild shred masterpieces, like "Suspension", "Cyborg", and "Paradox".
Francesco recorded the "Suspension" album at his home studio, Suspension Records, from October 2000 to January 2001.  He played and recorded all the guitar parts (in which he used an Ibanez RG550), as well as keyboards, bass guitar, and drum programming.
Francesco plays Ibanez guitars, and is endorsed by VHT Amplification, Jim Dunlop, and S.I.T. Strings.
"I feel a particular effect of "Suspension" when I hear this music. It seems as a bird that flies near the sea without touching it…his movements are very fast around the sea which changes his motion…and it creates a sense of intrigue between the guitar solo and the rhythm parts. The rhythm section is very fast, the drums are powerful on the solos that are very fluent… Anyway I feel the same sensation, more or less in every song. I hope to have shown my feelings not only with these few words but above all with my music."– Francesco Fareri
© David Katilius 2005
for more information, visit www.francescofareri.com