Francesco Fareri – Biography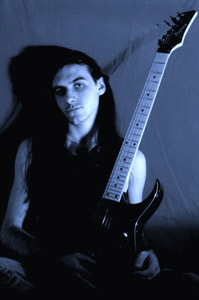 Wow.  Not since Yngwie, Petrucci, Cooley, or Angelo have I heard a guitar player this fast and this creative.  How fast, you might ask?  Hmm…I have an idea.  Think 128th note alternate picking and legato runs and seemingly endless arpeggios.  Yes, I said it.  128th notes.  This guy is an absolutely amazing guitar player and composer.  If you're into players that go beyond the speed limit, check this dude out.  He is well known on his website for his shred transcriptions and lessons.  He has also played many guest solos on different artists' albums, including Vitalij Kuprij, Cyril Lepizzera, and Chrism.
Francesco Fareri was born in 1978 in Rome, Italy.  He started playing guitar in 1995 starting immediately with electric.  For a short time he took lessons from a friend who was influenced mainly by Steve Vai and Joe Satriani.  Francesco found that these players weren't really his style, so he turned to his early influences like Jason Becker, Tony MacAlpine, Vinnie Moore, and other neoclassical guitarists.  In 1997-1998, Francesco recorded his first 4-song demo entitled "Hurricane".  It was this that led to him playing concerts around the city of Rome.  In December of 1998, he recorded another demo entitled "Labyrinth".  In 1999, Francesco recorded 2 more demos, entitled "Seven Magic Arts" and "Mind Boggling".  It was around that time when Francesco got into the works of Shawn Lane, George Bellas, Greg Howe, and most of all, keyboard virtuoso Vitalij Kuprij.
In January of 2000, Francesco began work on his popular 6-song EP, entitled "Suspension".  This album is available through links on his website, and is extremely popular today.  Francesco recorded and played all the instruments on the album–guitars, bass, keyboards, and drum programming, which is so out of the ordinary, not even Mike Portnoy (Dream Theater) himself, let alone a human being, could reproduce the drum tracks!
In the beginning of 2005, Francesco began work on his new album, "Forbidden Dimension". The lineup is as follows:
Francesco Fareri –  guitars and keyboards
Kyle Honea – bass guitar
Jon Doman – drums*
*Drums tracked by Greg Howe
Vitalij Kuprij – keyboards on "Winter"
Bob Katsionis – keyboard solos on "Inside", "Evolution", "Illusions", "Reflection", and "Atlantide"
The album is scheduled for release on July 28, 2005.
We at Shredaholic salute Francesco Fareri.
for more information, visit www.francescofareri.com
© David Katilius 2005