Francesco Fareri – Interview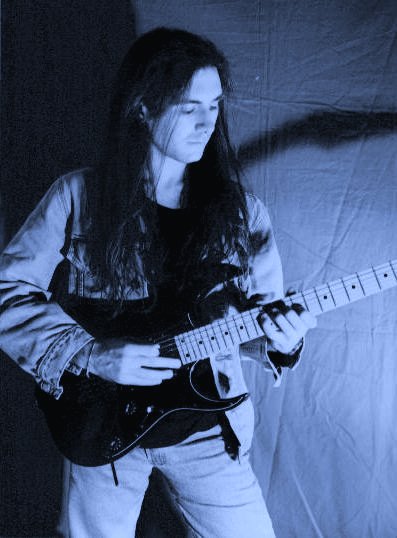 interview by Richard Baines
1. When did you start learning to play the guitar?
I started in late 94/early 95 immediately with an electric one under the influence of the neoclassical era of Shrapnel records! I have a lot of instrumental albums from fusion to shred to metal… everything!
2. What was the first record you purchased?
The first album I bought on cassette was Europe's 'The Final Countdown' and it rocks! Then I bought lot of things that I haven't listened to for many years! Anyway after some early years searching for the music I wanted to listen to I started to buy Metallica's albums and they are great!
3. Who are your main influences in music?
Since late 1997 my absolute greatest influence is the keyboard master Vitalij Kuprij! The fact is that he recorded some solo albums that are so fresh and innovative that I can't find in other artists (it is my idea!)! For sure also Jason Becker, Greg Howe, George Bellas, Rusty Cooley and some drummers like Jon Doman, Deen Castronovo, bands like Dream Theater, Symphony X, old Angra and other stuff… but above all Vitalij because his ideas and his playing are so innovative, take a listen to his first solo album High Definition, it has some so cool parts and they're never 'already heard'!
4. What else inspires you apart from music?
I love my dog and my girlfriend and I like to do simple things in life… to watch a DVD or listen to some radio stuff! I take 'inspiration' from my emotions… if there is a moment in my life I feel a particular things I try to show it in my music. Maybe it is really hard to translate in words but I think it is something really involved with my self and my life.
5. What gear did you use to make Forbidden Dimension?
I used my Ibanez RG7620 customized by LGM guitars and it sounds amazing! I used SIT string and VHT power amp and cabinet! I used also Alesis Midiverb4 and Alesis M-EQ230 and a Line6 pod pro which now I've sold!
6. There seems to be a lack of talent, musical virtuosity and melody in the current mainstream rock acts. What do you think about that?
The fact is that, if you are searching for virtuosity or something new, you must search for it in the 'underground' music and not searching in a good channel on the radio! I think internet is the best solution for everything! There you can find everything, sometimes you can listen to some samples and then decide to buy the album or not… you are totally free to choose what is the best for your ears!
7. Tell us about your live performances – whereabouts do you gig?
I've done about 8 concerts and 3 guitar clinics as a solo artist and lot of them were in the past! The most recent one was in 2002 in London UK for the Jemfest and I had a lot of fun there! I met great players and visited the city for the first time! A really cool time!
8. Any plans to play with any other artists for the future?
I recorded guest solos for some artists and I'm recording others for new ones in these days… I'd like to have also a band to play prog-metal like Dream Theater in 'Train of Thought' album (I love that album, my favourite one!) but I need to find players with my same ideas here in Rome and also I have some problems of time because my job doesn't leave me so much free time and I must divide it for my music and my personal life! Anyway I always think about having a band!
I want to thank you for this space and check out my site for news, mp3, videos, lessons and everything.
Ciao
Francesco Fareri

2 Comments