Jason Kelly – "Where Is The Sky?" – Album Review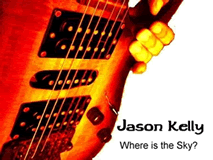 Tracklist
01. Face The Music
02. Far Apart
03. Until Tomorrow
04. Endgame
Folks get ready for an immense ride in guitar instrumental music. This is Jason Kelly's CD, ''Where is the Sky?''
This is great melodic rock shred guitar instrumental, but Jason brings out his own unique style out of it, which I think is brilliant. Jason has a great sense of melody, which is ever present in this CD; there are plenty of catchy melodies and licks on this disc to satisfy fans of melodic guitar and lots of tasteful shredding to satisfy the shred heads.
The album starts off with the fantastic ''Face the music'' which is a style of its own just like the rest of the CD, with great melodic licks and great shredding present, a great opener. ''Far Apart'' is an amazing ballad-esque emotional number, great heartfelt playing. The title track is next, another great emotional number, very air guitar sounding with great playing and phrasing from Jason. ''Until Tomorrow'' is in one word ''beautiful'', a piece with soothing clean arpeggios, drastically changing moods throughout each arpeggio, brilliant. The album closes with probably the heaviest track on the CD, ''Endgame'' it's a great album closer with great fast chugging riffs and amazing harmonies! Truly a great tune just like the rest on this album.
Overall I thought this disc was great, and no filler tracks whatsoever; great from start to finish. If you love melodic rock instrumental guitar with shred and original touches you will love this CD, pick it up!
to visit Jason's official website, click here
© Richard Niczyperowicz 2008