Yann Armellino – "Cross-Rocks" – Album Review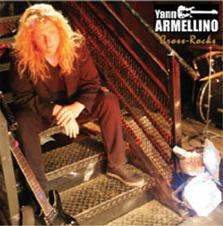 Tracklist
1. Crossroads
2. The Beginning
3. Dropped D Song
4. Stop Breakin' Down
5. Beach Music
6. Riffs, Roll & Stylus
7, Shandi
8. Electro Song
9. Metal Song
10. If I have possesion over…
11. Four Until Late
12. Time To Time
13. Feels So Good (Remix)
14. Walking Blues
1. Crossroads – Nice little blues number this, one of the 5 Robert Johnson covers on this album. Good singing in it too, cool guitar work throughout especially the very cool solos which are a treat to the ear, some nice tapping licks towards the end too complete with awesome pentatonic licks make this track a great opener.
2. The Beginning – Cool solo after the intro, very nice tone on the guitar. Also note some very cool backing chords constructed under the lead work of this tune.
3. Dropped D song – As the title states! Yes this song is in drop d, and a damn good tune it is. Cool groovy riffs throughout thrown on top with very tasty lead work, very nice main melody to this song too.
4. Stop Breakin' Down – Second Robert Johnson cover. Extremely bluesy tune this one, with more cool vocals in this, also note a harmonica is used in this tune, contributing neat little fills throughout. Standard 12 bar blues riffs throughout combined with that typical feel good bluesy atmosphere, cool lead solo in this one too.
5. Beach Music – Awesome melodic intro arpeggios with a heartfelt solo coming in after the first few bars. Great lead licks in this one, very soulful. Awesome.
6. Riffs, Roll & Stylus – Very cool intro riff followed by nice lead work, great main melody too. Great lead solos throughout as well.
7. Shandi – Awesome melody and solo to start this tune off, very soothing feel too, this tune. Awesome solo work, very soulful and melodic, a joy to the listeners ear. Great Track.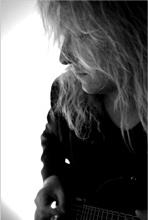 8. Electro song – Cool sounding intro, nice wah work. Very funky bass line backing. As the title states, this track has a very ''Electro'' feel to it, with various effects used on the guitar, including wah and delay. All in all it makes it a nice track to listen to.
9. Metal song (Baby's Like Metal) – METAL! As the title says, this is definitely a bone cruncher. The heaviest song on the album and it soon becomes apparent instantly when the listeners ear is exposed to crunchy palm muted riffs, very cool riffs in this one, with wah effect used a lot in the lead to create a typical metal lead solo. This tune had my head thrusting in no time! Of course if it's metal, its gotta have some shred, and shred there is with some great licks!
10. If I Have Possession Over Judgement Day – The third Robert Johnson Cover, as you'd expect, another blues tune. Very typical blues here, catchy 12 bar riffs with very cool relaxing lead work on top.
11. Four Until Late – The fourth Robert Johnson cover, starts of with a little shred lick into (yes you guessed it!) another blues tune, I get it, Robert Johnson is a 100% blues master! Hehe. This has more of a country blues feel to it though, with harmonica and more vocal accompaniment make it a solid, catchy tune. Yet more pentatonic blues in the lead work, and typical blues construction, nice tune.
12. Time to time – Nice cool sounding intro, soft and very melodic backing with more great lead work on top follows. Vocal comes into it half way though, humming a tune with a guitar solo, creates a great effect, some cool clean shredding also in the outro, very good song.
13. Feels so good (Remix) – Cool sounding song, has a nice bass line to it and a cool tapping lick followed by more lead work. The main tapping lick is used quite a bit and is really cool.
14. Walkin' Blues – The fifth and final Robert Johnson cover and the last on this album. Starts off with a cool country blues acoustic intro, which sets you in that southern country mood. Cool lead licks, pentatonics used well, nicely placed. Nice, relaxing end song to a great album.
Overall I really enjoyed this album, Armellino's style is quite varied and unique, from rocky blues to metal – he does both exceedingly well. It becomes apparent early that he is greatly influenced by blues legend Robert Johnson. The playing is also particularly well done and very clean sounding, solid production too.
Recommended.
© Richard Niczyperowicz 2005
for more information, visit Yann's official web page