Guns N' Roses – "Appetite For Destruction" – Album Review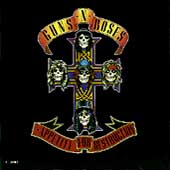 Tracklist
1. Welcome To The Jungle
2. It's So Easy
3. Nightrain
4. Out Ta Get Me
5. Mr Brownstone
6. Paradise City
7. My Michelle
8. Think About You
9. Sweet Child O' Mine
10. You're Crazy
11. Anything Goes
12. Rocket Queen
When I first heard this album I was like who in the f**k are these guys playing!! It's take no prisoners, no holds barred rock n roll. 'Welcome To The Jungle' is like an action movie, then you can hear the softer side in 'Sweet Child o' Mine', they get down and dirty in rocket queen, 'Out Ta Get Me' is pure heavy rock too.
This is one album that will overshadow anything like it, it's raw aggressive kick ass rock n roll !! The vocals are sung intensely on the album, Axl's voice wails off the guitars and drums, Slash playing guitar is like bread mixed with butter, always  playing and getting ready to play a kick ass solo that  would never be let down!! He plays his hardest on every song, Izzy known as the quiet gun plays his guitar on here like a hot knife going through butter and Stephen and Duff are heard pounding their instruments – drums and bass respectively.
All in all this is one of the biggest and best albums, not only of the 80's… but all time!!! There's a song for every mood on here, a definite benchmark in rock n roll history, this is true rock at its best! Recommended highly!!!
Chris Carlson