Mike Campese – "The New" – Album Review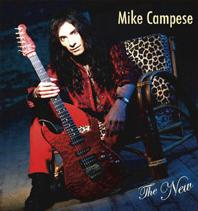 Tracklist
01. Misty Seas
02. All Or Nothing
03. I Believe
04. Mission Mars
05. Swing Thing
06. Lucky
07. The Unknown
08. Crying For Freedom
09. Sonata
10. Empty Space In My Heart
11. A Cry With No Tears
12. Somebody Say Yeah
13. Majestic Rays
14. Majestic Rays (Reprise)
15. Chompin At The Bit
16. Before A Storm
17. Matt The Cat
18. Fur Ariel
Today we will be reviewing this awesome CD from none other then the great Mike Campese, a guitarist who writes in lots of great and different styles, and even vocals on a lot of the songs! Lets get going…
The album has a whole lot of different mixture of songs covering loads of different styles. I hear Blues, Rock, Neo-classical, Jazz, acoustic, shred, funk… all sorts! It's particularly impressive how the songs on the album gel together and sound great while still containing this much diversity, and a testament to Mike's song writing abilities.
Campese does not overdo the speed factor; he plays very tastefully and melodically, great phrasing in his playing as well. Very technical playing as well, especially seen as he covers many different styles. Also, the vocals are very good and fitting, and add even more variety to this album!
This album, as mentioned above, has a great variety of different styles of songs, which makes for an interesting listen and is great if you grow tired of listening to the same style of song over and over. Overall, it is a very good album and a fun listen! All the songs are well constructed and sound great, definitely a recommended disc to check out.
© Richard Niczyperowicz 2006
to visit Mike's official website, go to www.mikecampese.com