Lead Guitarist/Composer Mike Campese releases New CD "The New"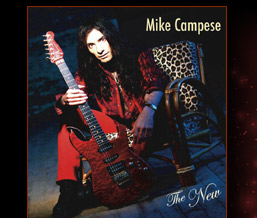 Lead Guitarist/Composer Mike Campese Releases New CD
"The New"
Mike Campese is back with his 4th solo CD "The New". The 18 song,72 minute CD features some of Mike's best work to date. "The New" CD features 11 instrumentals and 7 vocal tunes. Campese proves on this CD that he is one of the top versatile guitarists, with a strong sense of melody.
There is something for everyone on this CD. Shred lovers will love Mike's blistering solos throughout the CD. "All Or Nothing" and "Before A Storm" is some of Mike's most ferocious guitar playing. Plus, there is some nasty grooves on the disc, like in the Fusion burner "Chompin at The Bit" and in the tune "Swing Thing", which, features some scary 32 note vocal scat lines. "A Cry With No Tears" and "Crying For Freedom" feature some of Mike's strongest melodies. Mike breaks out his acoustic guitar for the epic "Majestic Rays" and the romantic piece "Fur Ariel". Guitar Virtuoso Mike Campese constructs some well written compositions on this disc that people will love. He knows when to shred and when to be melodic.
Visit www.mikecampese.com for more info.