Frank Gambale – Biography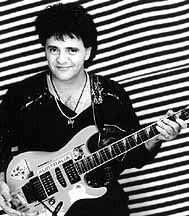 A great guitarist, both technically and musically. Gambale is best known for his work with Chick Corea's Electrik Band (In the style of Jazz Fusion). He was a student at the guitar institute of technology in his early 20's and he wrote instructional books. He has also done a few instructional videos – which are really helpful in my opinion. One is monster licks and speed picking which focuses on shred technique with picking patterns and sweep picking tutorials. The other is the very well done one about modes, in which he explains in great detail about modes better than most other teachers would.
He joined the Corea band in 1986, also performing with Steve Smith's vital information, and has been a leader of his own rock orientated dates for JVC. Gambale also has gone on to collaborate with drummer Steve Smith and bassist Stu Hamm, making several discs between the three that become extremely ambitious as time went on. His technique style is so original to fit his own style of playing, he is a pioneer at sweep picking technique. His picking is so awkward with the way that he uses his picking hand motion, it is unreal, but comes out super clean.