Roo Interview (by Colin Moriarty)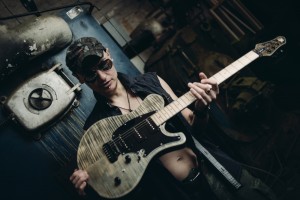 How did your band come to the decision that it was time for a vocalist?
It went gradually. First thought was having some tracks with vocals on RooBand´s instrumental album. Soon I realized that the musical direction of the tracks with vocals was too different from the rest. Splitting the instrumental tracks from those with vocals meant writing a separate album and ultimately forming a new band with a permanent vocalist. RooBand´s Ep Plectrum Spectrum and Reign Over Obscurity´s Time Distortion were recorded simultaneously.. in the same studios.
What was the most challenging aspect involved in the production of your latest album?
The unexpected departure of our first vocalist was for sure a challenge to overcome. Then, I would say, setting and reshaping the musical direction for Reign Over Obscurity, from more aggressive to more melodic. Finally, the fact that things in studio take longer than planned. Redoing things you liked. You never know what is done and if it will be good enough.
For example, Tipi and I play rhythm guitars on different channels with a slightly different attack. We are well used to record together, we go through each riff, breaking down beforehand, each pick stroke, palm mute, hammer on etc…
However, the day we were to record Hollow Moon´s vocals, we suddenly found out that the guitars had an issue and were to redo completely, no edit possible… We redid the guitars in "Cryptology" as well; I liked it as it was but the guitar amp we used on it sounded too different than the other songs. Too bad. The drums and vocals had their share of "last minute redo" as well… It is only when it is done that you can see if things really fit together.
When writing the tracks on Time Distortion that were not adapted from Rooband's repertoire, did you begin with the lyrics or guitar riffs?
I usually started with guitar riffs which brought the atmospheres and the song's titles. For instance, when i found the clean guitar arpeggio for "Empire of Dust" that sounds a bit like a detuned piano, I thought about an abandoned world, our civilization in decay. The lyrics then came quite logically and Elias was free to edit them to his needs. However, on Empire of Dust, I was not expecting Elias to sing right over the intro. I never thought it was possible to do so… Elias is a unique singer as he can sing over any part, regardless of what is played in the background. During the recording sessions, i was amazed to see him creating and harmonizing vocals phrases over parts that didn't even had any chords such as lead guitar arpeggios. I was concerned the guitars would go unnoticed hehe, but it sounds great that way.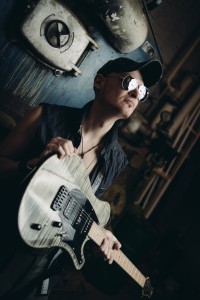 How has Helsinki's reception been of this change in ensemble?
I´am really grateful for the local support Rooband always received considering that most of the friends who attended our gigs here are not big fans of instrumental rock in general.
I think they were relieved to learn there would be vocals coming hehe. On the other hand, a couple of my guitar students who are into instrumental stuffs purchased Reign Over Obscurity´s album but said they´d have rather liked me to release an instrumental album.
My biggest surprise came from France actually. Several people i know, who are absolutely not into rock or metal, purchased our album because they loved our single "Wheel Of Mind". Even my mom liked the song! So the change brought new listeners. It is a great feeling to touch people. Suddenly they realize you exist as a musician.
What is your plan for the future of Rooband?
Probably to record a full length instrumental album. Maybe back into heavy blues style since Reign Over Obscurity handles the progressive metal rock side. It would have to be very well produced with very good compositions and arrangements, not only good guitar playing… I don´t really plan full RooBand shows coming soon but as we already did with Reign Over Obscurity, we can perform some Roo instrumental songs in addition. It just depends of the nature of the event and if the audience wants it. I perform as well instrumental rock during guitar clinics, so definitely I am not abandoning instrumental music.
Who are some of your greatest influences whom inspired you in the writing of Time Distortion?
During the writing of those twisted guitar riffs and depending of the songs atmospheres, bands such as Megadeth, Metallica,
Slayer, Testament, Sepultura but also finnish bands such as Amorphis came to my mind.
Reign Over Obscurity to Release Debut Album on March 30th
"Progressive Super-Rock"

Helsinki, Finland: Finnish band, formed by french guitarist Roo Chapus, Reign Over Obscurity announces today the release of their debut album "Time Distortion", March the 30th on the label Mad Guitar Records.
Formed in 2012, Reign Over Obscurity, whose sound is compared to Megadeth and Dream Theater is a blending of sharp harmonised guitar riffs, super melodic, yet aggressive vocals and catchy choruses that serve compact crafted songs. The thematic elements explore science fiction atmospheres, the downside of the human condition and its hidden truth.

Watch their new video clip "Wheel of Mind", directed by Tomi Haamu, now!
https://youtu.be/XPGlH8Ly0hk

Official Band Promo Pictures:
http://www.madguitarrecords.com/wp-content/uploads/2015/03/TWX7466.jpg
http://www.madguitarrecords.com/wp-content/uploads/2015/03/TWX7497.jpg

CD/Album artwork:
http://www.madguitarrecords.com/wp-content/uploads/2015/03/cover-300×300.jpg