George Lynch – Biography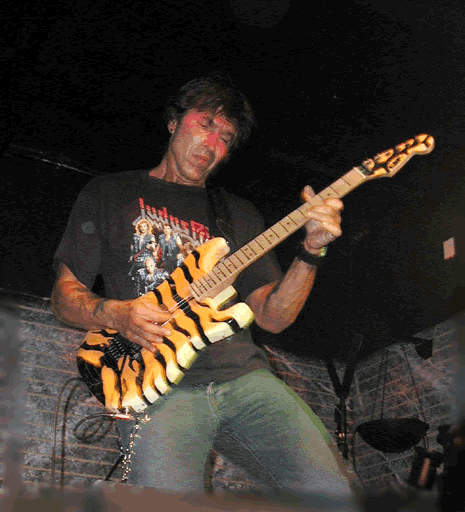 George Lynch was born in Spokane, Washington on September 28th 1954 and was raised in Sacramento, California, and is best known for being in the 80s hard rock band ''Dokken''. He is a highly respected modern guitarist, compared to such players as Steve Vai and Eddie Van Halen. He is well known for his stunning legato technique and the common use of the scale he calls the ''Gothic Octave''.
George auditioned to be Ozzy Osbourne's guitarist twice, once in 1979, losing to the late, great, Randy Rhodes (and another time in 1982 to replace Brad Gillis). According to George, he was hired for three days until Ozzy changed his mind and decided to go with Jake E. Lee. Lee, however claims that Lynch 'Got the gig', but only went on the road for two weeks to watch the show, and never actually played with Ozzy.
He came to fame with Dokken in the 80's, whom which he had been a member of since the 70's. Dokken had a string of successful gold albums and Lynch's lead work was highly acclaimed on all of them and cemented his place in the legion of guitar heroes. Despite being hugely successful, Lynch left Dokken in 1990 due to tension with lead vocalist Don Dokken. George went and formed his own band ''Lynch Mob'' whose style was similar to Dokken's, but were never as successful.
Into 1993 and Lynch released his solo album entitled ''Sacred Groove'' which was well received amongst fans. By 1994 George and Vocalist Don Dokken settled their differences and reunited the classic line-up of Dokken, releasing 2 albums but Lynch still found time to tour with his own band, do guitar clinics for ESP guitars (which he has endorsed as part of Dokken since the 80's) and attend the annual NAMM show.
In 1997, tensions flared again over creative differences and Lynch left to pursue other projects. He began a number of side projects, reforming and touring with Lynch Mob, releasing more solo albums, and forming a project with Dokken Bassist Jeff Pilson called 'Lynch/Pilson'. He currently lives in Arizona where he continues to record, lives healthily, and embraces body building.