Ty Oliver – Interview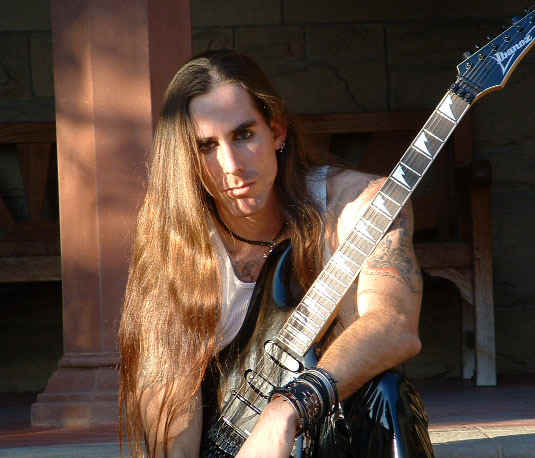 interview by Richard Baines
1. When did you start learning to play the guitar?
Well, I started out playing drums in the fall of 92′ and the friends I would jam with would leave their gear at my house. So at night when I couldn't play my drums, from time to time I'd pick up a guitar and fool around. I didn't take it seriously at all, or practice, it was just fun. I decided to switch to guitar in 94, and so that was when I got my set-up and started taking guitar seriously. I ended up switching back and forth several times, until finally focusing in guitar exclusively in 2000.
2. What was the first record you purchased?
Oh geez, well, the first band I ever really liked was the Cars when I was like 8 or 9 or something. But I didn't start buying my own music until I was a bit older, and I think it was something totally un rock and roll like Eazy E or something. I liked it because they said fuck a lot, and it made me laugh. I didn't start getting into Rock until high school.
3. Who are your main influences in music?
Well, the two biggest guitar Influences are Joe Satriani, and Steve Vai. Joe really inspired me to go the instrumental route. I love the shredding guitar work he does, but I'm really captivated by the way Joe captures emotion and feeling. His use of tone, the dynamics, the seemingly endless creative pallet he draws from. It just blows me away. Steve Vai, to me is someone who has mastered the guitar. I've never seen someone with such an incredible bond with the instrument. He pours his heart and soul into every note, and plays with such a crazy level of skill it's just mind blowing.
4. What else inspires you apart from music?
Oh, definitely relationships, heartbreak, love, that type of thing. I get the most inspiration from sadness. That's when I want to create the most. My heart cries and I want to make music. The softer heartfelt stuff comes the easiest for me.
5. What gear did you use to make Healed Through Time?
Well, as for Guitar stuff, I used my IBANEZ RG 760, for all the leads, and most of the rhythm guitars. I used my IBANEZ RG450 DXWH for the occasional clean guitar part just to add a different tone hear and there. I used a Larave acoustic for a couple rhythm tracks. I plugged into my Rig which is a Rack setup consisting of: Digitech GSP 21 Legend, BBE Sonic Maximizer, Alesis MEQ 230, Alesis Compressor, and a Carvin power Amp. And that's run into a Marshall 4×12 cab.
For most of the recording, we used EMU system's Paris Pro, and I tracked "See the Light" and "Strings From Heaven" at home on an EMU systems Darwin digital 8 track. Both recorded direct in, and then dumped into Paris for better mixing.
6. There seems to be a lack of talent, musical virtuosity and melody in the current mainstream rock acts. What do you think about that?
You know, the music of today is certainly lacking the guitar heroics of the 80's and early 90's, but I think there are some very talented bands out there. If you listen to the radio you most likely aren't going to hear them. But if you dig a bit deeper, you can find some great music. I like a lot of modern music, some of my favourite bands are part of the new rock scene. Most of the time, I don't like these bands for the guitar work, it's more of an overall vibe, or feel. There certainly is a lack of guitar heroes in the main stream these days that's for sure.
7. Tell us about your live performances – whereabouts do you gig?
Unfortunately, I have not been able to play any of the material on "Healed through Time" live as of yet. I have been having a really hard time getting a live act together. It's tough to find people who are ok with no vocals, as well as players who handle themselves and music professionally. Most don't, and I don't want to go out and play with anything less than a pro band. So, until I find the right people, there won't be any shows. It's very frustrating as I am dying to get out there and play!
8. Any plans to play with any other artists for the future?
Actually, I recently met a professional Female vocalist that is piecing together a band, and has asked me to be a part of it. I'm very excited, as it will be a great opportunity for me. It's a bit early on to say much more than that, but I may be backing her up soon. We'll see how it goes!
for more information, visit www.tyolivermusic.com