Yasu Matsushita – "Appassionato" – Album Review

Tracklist
1. Concerto For Electric Guitar No. 7
2. Waltz
3. Concerto For Electric Guitar No. 12
4. Guitar Sonata No.4
5. Guitar Sonata No.5
6. Winter Rondo
7. Guitar Sonata No.8
8. Tarantella No.1 (4/4)
Concerto for Electric Guitar No. 7
Starts off with an awesome lead melody solo, very reminiscent of Yngwie J Malmsteen. Great melodies throughout this one, cracking main melody. Great arpeggio section too. Solid Opener.
Waltz
Another great classical melody starts us off, and yet more tasteful lead work. Another great tune full of plenty of great classic melodies. The shredding is very fitting also, very fast speed picking.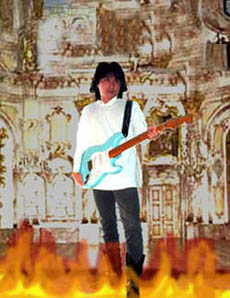 Concerto for Electric Guitar No. 12
Starts off with some nice keyboard chord progressions, followed by a diminished sweep picking section and great shredding following the backing chords. Another great soulful solo follows, very touching.
Guitar Sonata No. 4
Great lead solo to open this up, typical classical pedal tone licks followed by a great lead shred solo. A fantastic melody section follows, really emotional guitar playing.
Guitar Sonata No. 5
Another very soulful classic guitar solo opens this one up, even with harmonised guitar accompaniment kicking in to create a great effect. Some very fitting quick shred runs inserted between the great melodies of the lead solo.
Winter Rondo
Yet more great classical melodies in this tune, Great lead solo with some fast speed picking. More great sounding pedal tone licks in this one too sound really fitting.
Concerto for Electric Guitar No. 8
As I expected, yet more great lead work, the shredding is very fitting, knowing when to speed up and slow down at the right times, a vital ingredient in a shredders pedigree.
Tarantella No. 1
Nice intro melody line/riff, a great lead solo follows shortly heading back into the great intro riff, twisting and turning just like a maze, great stuff.
Overall I really enjoyed listening to this album, I thought it was very good neo-classical guitar playing. I can tell Matshushita is greatly influenced by Yngwie Malmsteen, that style is incorporated a lot on this album. The guitar work was very good and the shredding technique was very fast, particularly the speed picking, but most of all, it was very fitting with the pieces. Recommended!!!
Copyright ©  Richard Niczyperowicz 2005
for more information, visit www.yasumatsushita.com