Nuno Bettencourt – Biography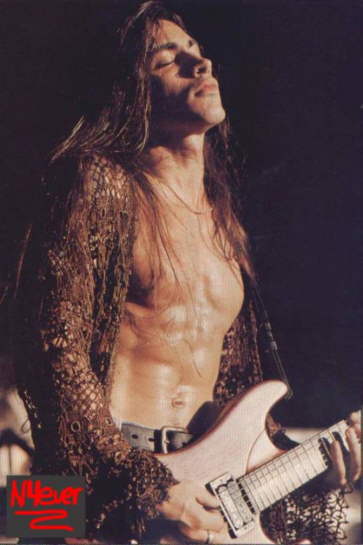 Nuno Bettencourt is a rock guitar virtuoso best known for his work in the Boston funk metal act ''Extreme''. His main influences technically wise draw from the likes of Eddie Van Halen, while his sense of melody and interest in progressive rock comes from bands like Queen. Bettencourt was original born in Portugal, but moved over to Boston at the age of 4. Initially, he wasn't really interested in music, preferring to spend his time playing hockey and soccer. He originally began to play his drums, until his brother taught him how to play the guitar. His brothers teaching didn't go far with him, and he began to notice that teaching himself made him rapidly develop his playing skills. In his sophomore and junior years he quit hockey and football to concentrate on music.
He joined stardom in 1985 when he joined the band Extreme. They released a few albums, including the hit ''Pornograffitti '', which did well in the charts and also showcased Bettencourt's great playing ability. In 1993 he produced and provided guest appearances for the second album for the ''Baby Animals''. In 1996, extreme disbanded while Bettencourt had his first child. He released a solo album in 1997, on which he played all the instruments. Then a year later he went on to form and tour with a group called ''Mourning Windows'', which incorporated a variety of alternative/ rock styles. Both albums they made did well in Japan and the New England area. Also in 1999 he went on to appear in the film ''Just a little harmless sex''.
Into 2002 and Bettencourt formed the recording entity population 1 and released a self-titled and self-produced 2002 release, population 1. In support of this release, he formed his own population 1 band to tour with around Japan and Korea. Also in that year, Bettencourt had his second child. Nowadays Bettencourt is keeping very active in the music industry, with being featured in the CD and DVD release of ''Guitar wars'' in which former Led Zeppelin bass legend John Paul Jones contributed. He also has writing and recording engagements with Maverick recording group Tantric, Hollywood recording group BB Mak, Toni Braxton, amongst more.
© Richard Niczyperowicz 2005