Randy Rhoads – Biography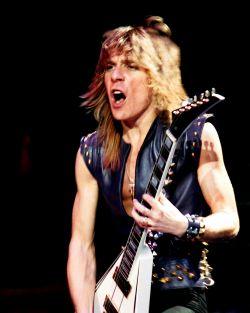 Randy Rhoads was born on December 6th, 1956 as St Johns hospital in Santa Monica, California. Randy picked up the guitar at age 6 on his grandfathers old Gibson acoustic guitar. According to his mother, he took up playing folk music, which was quite popular way to learn at the time although he didn't take lessons for very long. He was also pushing towards his own style of hard rock/metal but was also very classically influenced.
By the time he was 14, he was in a band called Violet Fox, named after his mother's middle name Violet. When he was about 16, he formed another band named Quiet Riot. They toured the local LA circuit at bars and clubs often in the same places as Mammoth (who would later change their name to Van Halen). They managed to snap out a record deal in Japan soon after their debut album was released in Japan. They went on to release another album until Randy's big break came in 1979.
Randy went and auditioned for Ozzy, and almost instantly Ozzy was so impressed that he wanted Randy to play with him. Together they recruited a line-up, and named their band ''Blizzard Of Ozz'' and recorded their self-titled debut album. They released 2 awesome singles, ''Mr Crowley'' and the mega-hit ''Crazy Train'' The band toured relentlessly and managed to record the follow up ''Diary Of A Madman''. The band's line-up changed slightly during which the album ''Tribute'' was recorded and released several years later. Diary of a Madman was released shortly thereafter and the band began another tour with the new line-up. Randy eventually told the band that he was considering leaving the rock music for a few years and concentrate on getting a degree in classical guitar.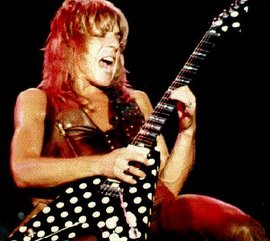 On March 19th, 1982, the band was headed to play at a festival in Orlando, Florida when they stooped at the bus drivers house in Leesburg, Florida. The driver (Andre Aycock) was also a licensed pilot. Him, Randy and a hairdresser named Rachel Youngblood climbed into the plane and took off. Apparently, Aycock was trying to make a mock of the divebomb at the bus but the plane clipped the bus and went flying into the house. Rhoads, at the young age of 25, tragically died in this incident along with Aycock, 36 and Youngblood, 58. It was found out later that Aycock's flying license was expired and that he had cocaine in his system.
In 1987, five years after Randy's death, Ozzy decided to pay tribute to Randy by releasing the live album ''Tribute'' which contains outstanding performances by the band and unforgettably great guitar from the great Randy Rhoads. RIP.