Kole – Interview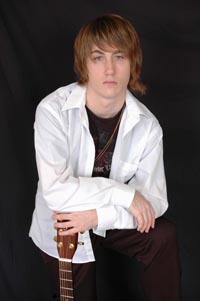 by Richard Baines
Not only is Kole an excellent musician but is a key lessons contributor to Shredaholic.com – head over to the lead lessons section now if you haven't read any of his articles. In addition to this interview, we'll be publishing a review of Kole's latest album "Exile" very soon!
1. When did you start learning to play the guitar?
Well, I received my first guitar right before my 12th birthday and I still have it to this day! It's a dark (although now quite faded) red colour with light switches where the knobs are supposed to be (haha). It sounds absolutely horrible, but it helped inspire me to take lessons at my local guitar store for a few months. I'm 22 now, so I've been playing for a little over 10 years.
2. What was the first record you purchased?
The first "record," or in my case cassette tape, that I bought with my own money was "Dangerous" by Michael Jackson. Obviously I bought it when I was much younger as it was released around 1991; however, I still love a lot of his music to this day. Remembering back, the most important quality music could have to me was its ability to make me move/dance. Although my definition of what "moves" me has changed, it is still a top priority in the music I listen to and compose.
3. Who are your main influences in music? Are there any unknown guitarists out there that you're excited about?
Tough question! I have many musical influences, but my main ones are the following (in no specific order): Led Zeppelin, Steve Vai (randomly met him around 6am @ LAX), Phillip Glass, Stevie Ray Vaughan, Weezer, Igor Stravinsky, Ludwig Van Beethoven, and Tommy Emmanuel.
Philip Sayce (www.philipsayce.com). He's Melissa Etheridge's guitarist and has his own unbelievable solo act. Blues is his thing and he can bend the hell out of a string, but don't let the "Blues-Guitarist Stereotype" fool you into thinking he doesn't have any chops. I've seen this guy shred tastefully within the blues style so well that I'm literally choking in anticipation of each note. (He's also a hell of a singer!)
4. When you're composing, do you do that exclusively on guitar?
Also a very good question and I'm glad you brought it up! The short answer is no, I don't compose exclusively on the guitar. Sometimes I compose on the piano, sometimes I hum the lines in my head and then notate it all down, and other times I'll just record a block of sound on many different instruments (samples included) then go back and edit it like a sculptor would with a block of clay/stone.
In fact, I love the guitar but only use it in songs when I feel the "colour" is necessary. People that follow what I've been doing lately know that I'm working on my first Symphony. While I plan to have the guitar featured in some pieces, it will not be the main instrument in the entire Symphony. I'm actually assigning different characters within the symphony with different musical instruments. So when you hear the guitar or clarinet you know specifically which character is present in this piece of music.
5. What else inspires you apart from music?
Now it seems that anything and everything can inspire me to write music.
Not so long ago, I finished taking a shower and listened for a minute to try and find the rhythmic pulse/pattern in "random" drops of water. Nerdy? Of course (haha), but that has inspired me to not only write a new movement in my Symphony, but to also develop a new way to conduct/play it.
6. Tell us about the movie Fame you're featured in – how did the opportunity to be in the movie come about?
"FAME," is kind of a remake of the old 80's classic, but with new characters and a more modern story. It was a lot of fun and I can't wait to see the finished product (should be done sometime around September of this year).
I actually was contacted by a musician referral service through MI saying that they were casting for some feature film. I didn't have anything to loose, so I said "sure" and submitted myself for an audition. Well, fast forward a week or so and I arrive at the place to audition. The first thing I hear from the guy when I go to sign in is "Oh a Guitarist eh…Hope you're good cuz everyone else has sucked so far." Needless to say that didn't calm my nerves (haha).
Anyway, they called me back and I had a new cool acoustic piece worked out for them, but they wanted to hear something on electric guitar. I had a feeling they may want me to do that, so I whipped out a random and spontaneous one-minute version of "Purple Haze." At the end of the piece I looked up, they nodded, and a day later I was informed that I booked the part.
7. What gear did you use to make Exile?
Recording this album took forever and it was a few years ago, so I don't remember all of the specifics. However, I vividly remember using my Spider II Line 6 amp, LTD 200FM, Takamine G-Series, and Cordoba 40R guitars. I also used Miroslav Philharmonik for all of the orchestral samples.
If you'd like to find out more about or listen to my album "Exile", you can do so here: http://www.kolemusician.com/products.htm
8. Tell us about your live performances – whereabouts do you gig?
Most of my live performances are as a solo acoustic act around Los Angeles. Sometimes (like my last gig) I'll have other friends and artists come up on stage to play a few songs with me as well. My solo gigs (contrary to working w/ other artists) are all about relaxing with good friends and alleviating as much stress as possible.
If I do my own show, it's usually at a random coffee shop or some other intimate venue. Don't get me wrong though, I like larger venues for certain things and I've played at a few like the "Whiskey A-Go-Go." However those venues are too large and don't work as well as I'd like for my solo acoustic act. Now, when I play with other bands it's usually quite different… the bigger the better.
9. Any plans to play with any other artists for the future?
Right now I'm currently working with up and coming Pop Artist, Olivia Somerlyn. The vibe is definitely more Pop-Rock, but I'm helping compose the music. So it will for sure be more colourful and interesting than most in that genre 🙂
As for the future, I'd love to work with Steve Vai, Tommy Tallarico, and Phillip Glass just to name a few. I truly believe that anything is possible with enough passion, patience, and persistence.
Thanks to Richard and the Shredaholic.com community…Keep the shred alive!
for more information on Kole, his music and other projects, visit www.kolemusician.com