Interview With The World's Fastest Guitarist!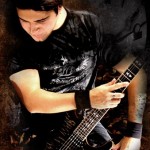 Remember a while back I promised an interview with Tiago Della Vega, a guitarist from Brazil who had just captured the guiness record for being the fastest guitar player in the world? Well inbetween playing Flight of the Bumblebee (at 320 beats per minute!), he's taken some time out to answer some questions for you Shredaholics! Check out the video of the world record attempt further down this page!
interview by Richard Baines
– How long have you been playing guitar? Did you start at an early age?
I started playing at 5 years of age, when I got to do acoustic guitar lessons, and 2 years after I started playing guitar. Nobody in the family had ever touched an instrument, then my wish came naturally, and also ever since I was born I acquired many musical instruments, maybe that has contributed to me to becoming a musician.
– Your Guiness World Record for the world's fastest guitar player is really interesting so we'd like to ask a few questions about that. How did you get involved with setting the record? Had it ever been done before?
Well, it was an idea I had to get in touch with the Guinness, as many years I had no difficulty playing anything, so if I could get this done many door would open up with this, because it's something unique … and indeed it happened, but I never studied to be the fastest guitarist in the world, although always easy to play something complex or fast. but the Guinness was a quick way I found to get a large exhibition
– Did you have to change your practice routine much for the record attempt?
In the time I recorded the video was in the midst of a tour of south america, I received an email from Guinness that said that I would have to record the video in 10 days, and sent me the song, then had 10 days to study the classical part, so I studied the show in hotels. The piece does not have many technical difficulties, so it was not too hard to run it, I was lucky with that particular choice of music.
– What guitar equipment do you use, and how important do you feel having the right gear is to play comfortably at speed?
Technically it does not make much difference, although the guitar is a little easier, I'm using Dean guitars, and they are excellent, it is very easy fast playing with them, and it helps a lot, but the sound is important to be clear and defined what you're playing, and it comes from the pickups I use are those in which DiMarzio. This combination makes a sound and clean set, another secret is to use little drive, and give more picking strength, it makes the notes much more precise.
– Tell us about your live performances – whereabouts do you gig?
I finished the tour's first album, Hybrid world tour, I went with this tour for more than 25 countries, including Japan, several countries in Europe and South Amerca, was fantastic, I'm currently recording the second album and the new scheduled tour dates to Europe and USA.
– Are there any musicians you'd like to collaborate with, or are already planning to?
Many people, I am often asked for new projects and love it, it's always a pleasure, in fact I would encourage everyone to visit my myspace www.myspace.com/officialdellavega, it has the songs from the first cd and the songs will soon be the new cd, to be based on Brazilian music, hope you like …
Best regards to all
Tiago Della Vega
Interested in seeing the world record attempt video? Here it is!

1 Comment