IMPELLITTERI's New Album Will Feature 'Lots Of Shredding…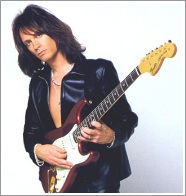 from Blabbermouth.net
Impellitteri mainman Chris Impellitteri has posted the following update at his official web site:
"I am still in the studio finishing the writing process for my next record. The CD working title is 'Good and Evil'. It will be a return to the sound of Impellitteri with influences from my 'Screaming Symphony', 'Crunch', and 'System X' recordings. The music will feature lots of shredding guitar solos and screaming vocals with the usual fat production. At this time I have ten tracks written. They are fast and furious tracks mixed with good songwriting. Also, there is an instrumental song very reminiscent of Bach or Mozart on steroids. Both the metal community and the musicians should enjoy this disc.
"I have been using my original 1970 Fender Stratocaster, 1958 Gibson Les Paul, and Marshall modified amps in the demo process and my guitar tone and playing are definitely maturing very nicely. I am definitely trying to take my guitar playing into the next realm (shred, taste, orchestration, and writing etc…). It is too early to say how the music will turn out, but I hope and pray that this recording makes our longtime fans pleased. I am definitely doing this disc for you!!!"
Impellitteri's most recent album, "Pedal to the Metal", was released last year via SPV Records. The follow-up to 2002's "System X" marked the recording debut with the group of vocalist Curtis Skelton (ex-SPEAK NO EVIL).