Jimi Bell – Biography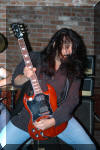 While Shredaholic were browsing the web, we came across this awesome guitarist called Jimi Bell. Not only has he 'perfected the shred', he does the theme tunes for WWE, and was 2nd finalist in the auditions for Ozzy's guitarist, only beaten by Zakk Wylde – also on previous page.
Click here to read an interview with Jimi
Check out Jimi's website at www.jimibell.com, the sound clip at the intro says it all. Just check out his impressive resume (from his site):
Dedicated commitment to music and guitar led to teaching throughout the years
Offered and accepted a full endorsement from the Kramer guitar company
Performed clinics for the Seymour Duncan Company
Toured with Joan Jett and the Blackhearts
Appeared and performed in the movie "Light of Day" starring Michael J. Fox and Joan Jett
Performed at the NAMM music conventions for Kramer Guitars and Seymour Duncan Company along side with Eddie Van Halen, Jeff Beck, and other top guitarists
Spotlighted in Guitar Player magazine
Chosen as a finalist for Ozzy Osbourne's lead guitar replacement
Recorded and showcased in London with Geezer Butler of Black Sabbath
Recorded with German-based band Thunderhead. CD was released by SPV label in Europe and Japan followed by a European tour with Metal Church.
Recorded CD with former lead vocalist of Metal Church / Reverend, David Wayne. Composed and played the music for 10 tracks (not including lyrics). Sessions were recorded at Silver Cloud Studios (Burbank, CA) and released on Nuclear Blast label (2001).
Recorded and released CD with former lead vocalist for Loudness and Yngwie Malmsteen, Mike Vescera. Composed and played the music for 5 tracks (not including lyrics) and played on an additional four tracks. Released in Europe and Japan (2003).
Currently endorsed by Hamer Guitars and GHS Strings.
Voted and won "Best Guitarist Award" from Hartford Advocate magazine 1995, 1997, 1999, 2000, 2001, and 2002

2 Comments