Thom Mathews – "Promo 2010" – Album Review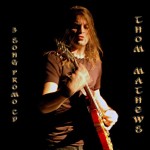 1. Meth Lab Explosion

2. Taming the Wyvern

3. The Tear Collector
Meth Lab Explosion features some classic heavy thrash rhythms with fast paced harmonised lead guitar. The legato playing is fluid and there's some insanely fast passages in here using exotic sounding scales. Thom pulls out all the stops in getting crazy solo sounds out of the guitar, this is definitely one of the most unusual sounding bouts of pure shredding I've heard.
Taming the Wyvern is a big departure from that, with Thom flexing his neo-classical guitar muscles in style. The track switches between eloquent classical guitar passages to searing melodic lead guitar – listening to it you sense a nod to Yngwie Malmsteen but still very distinctly Thom's own style.
Finally, The Tear Collector is a true shred instrumental ballad, again with Thom using harmonised guitar and silky smooth legato to great effect. The melodic lead and the heavy Metallica-esque rhythm section complement each other really well, and Thom uses a wide range of tones and techniques on the lead guitar to keep the instrumental interesting.
Overall a very interesting promo to listen to, it's certainly got me interested in hearing more from Thom Matthews and I look forward to featuring him more on the site!

1 Comment