Glimpse Trio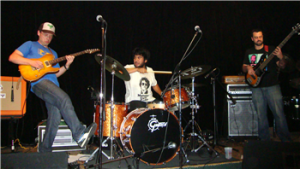 We heard about a really interesting band earlier this month called 'Glimpse Trio', who would best be described as an 'extreme jam band'. Guitarist Mike Sopko is big into shred and from what we've heard so far flaunts some impressive shredding skills! Fancy a listen to some of their music? Shredaholic has been sent a special link so our visitors can have a free listen and see what they think:
http://www.sonicbids.com/epk/epk.aspx?epk_id=287757&name=music
Here's a press release giving some background on the band:
Biography Consisting of three of the most intense, musically diverse, and improvisationally savvy musicians of their era, the Glimpse Trio (formerly known as MCR) "extreme jam band" has been described by L.A. Weekly as "Oakland's dark kings of avant-metal colossalness." Captivating and all-out riveting, GT strives to spontaneously create engaging music that approaches the unknown and borders on the psychedelic.

Cleveland native Mike Sopko, known to have the "fastest hands west of the Mississippi," is, according to renowned guitarist Marc Ribot, "conceptually, one of a very few people who can really play." Most recently, Sopko was featured on Dosh's latest single, "Subtractions," on Anticon Records.

Ethan Rider, another Cleveland native, studied bass guitar at the Cincinnati Conservatory of Music and formed the prototype of GT (known as MCR) with Sopko in 2001. Recently, Sopko and Rider toured with celebrated frontman Mike Watt and legendary drummer G. Calvin Weston, as well recording with Weston.

After graduating from Berklee College of Music, Bay Area native Hamir Atwal became one of the most sought-after jazz drummers on the scene. After extensive touring with bandleaders such as Greg Osby and becoming a staple at places like the Village Vanguard (New York) and the Green Mill (Chicago), Atwal joined Sopko and Rider to create Glimpse Trio.

GT is looking to redefine the rock/jam-band scene through staggering live performances and recordings. With the release of "1985," their first full-length, studio release, they are now seeking labels for distribution and touring opportunities.
Links

4 Comments
Trackbacks