Jamie Robinson – Interview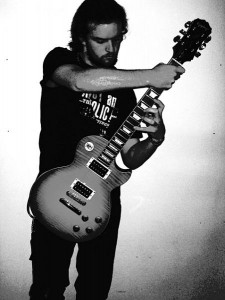 Jamie is a young guitarist from Toronto, Canada, and will soon be joining Shredaholic's many lesson contributors with a brand new video lesson for the site. He's recently finished studying at the Musicians Institute in California, and has a brand new album out called "Playing To Win". Here's your chance get to know him a bit better!
Hey Jamie, thanks for taking the time out to answer some questions about yourself for Shredaholic readers. I guess we should start from the beginning – when did you start learning to play the guitar?
I was fortunate to start playing guitar at an early age. My grandfather bought me my first guitar when I was about 8 years old and I never put it down.
Who are your main influences in music, and how have these influenced you when writing your new album "Playing To Win"?
I have a lot of favourite guitar players such as Eddie Van Halen and Jason Becker but I like to get a lot of song writing and production influence from different styles of music that isn't guitar-driven. Taking ideas and inspiration from completely different styles of music and applying it to guitar-driven music, I find makes my sound more unique than most guys.
What gear did you use to make "Playing To Win"? Any secret weapons?
I've always run a very simple setup. I never have been a huge fan of all the rack equipment, I like to just plug in and play. I use a cheap multi-effects unit straight into the clean channel of the amp. The two things I swear by that I used on this record are my Ibanez RG7 guitars, RG7620 and my new RG1527m, and both are stocked with DiMarzio pickups which I've been using for many years now.
What else inspires you in life apart from music?
Music has always been my main passion and since I don't want to be doing anything else, the business side of music has always been of great interest to me. I know a lot of artists who are discouraged or intimidated by it, but I find handling endorsements, marketing plans, distribution, and making deals can be just as fun and creative as the art side. It is also a great way to stay in control of your own career.
I heard your scholarship from the Musicians Institute was quite unique, can you tell us a bit more about that?
I had the incredible opportunity to attend Musician's Institute in Hollywood California on the first full scholarship ever given out. It was always a dream of mine to move to L.A and attend MI. It's the greatest music school around and having a faculty that really pushes hard for you to have a successful career really makes a big difference. I was lucky to land a gig doing music for television while in L.A that I got through the school's Artist & Careers service.
What would you say is your best experience so far as a guitarist?
I've played with a lot of great artists and have been able to travel a lot which I love to do. I think winning the North American Rock Guitar Competition in 2007 was one of the best experiences. As the winner, I was able to go on stage after and jam with one of my favourite guitarists John 5. Being only 17 years old at the time it was unbelievable to play with someone like that.
Any plans to play with any other artists in particular for the future?
I enjoy playing with other artists from time to time but I work hard to market myself as my own artist. There aren't any guitar players who really do that anymore, the way Yngwie Malmsteen and Joe Satriani did. I really want to see the excitement come back to the electric guitar and the only way that will happen is to support new young guitar players. After all, being a guitar player is the coolest thing in the world!
– interview by Richard Baines Feb 2011
to find out more about Jamie, you can visit the following websites:

www.myspace.com/jamierobinson777
www.youtube.com/jamierobinson777