Shredaholic Newsletter Is Released!
Posted by Shredaholic on 10/17/10 • Categorized as News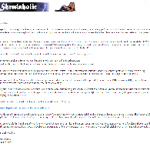 "Testing, testing, check check…"
Did everyone get their copy today in their inbox?
For those of you who don't know, the first installment of Shredaholic's brand new newsletter was released today. Inside was an exclusive link to a free book chapter from Tennyson Williams' Essential Guide to Guitar Virtuosity, and also details on how you can enter a forthcoming competition here on Shredaholic to celebrate the fact that by this December, the site will have been running for 6 years. The prize to the lucky winner will be a brand new Melodic Soloists CD, delivered direct to their door.
In the classic British spirit of fair play, we're offering those who missed out the chance to still get their hands on the first newsletter this week. Just subscribe in the sidebar entry form over there ——>
and then send an email to the address you get in the welcome message, so Shredaholic knows who to send installment #1 to!
Tagged as:
newsletter

Comments are closed.