New Album From Andrea Orsini!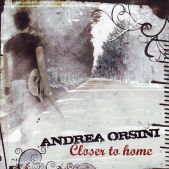 We've just received the following press release:
24 year old Andrea Orsini is among the most interesting Italian rock guitarists of recent years, and is the author of two albums, 'Catharsis: Story of a Life' (2007) and 'Closer to Home'(Sep. 2009). The style of the latest album,'Closer To Home', which includes contributions from the well-known figures like Frank Gambale, Andrea Braido and Alessandro Benvenuti, moves between a variety of musical genres such as fusion, blues, rock, acoustic and percussion, forging them into a new genre which he has christened Evocative Rock and which expresses and epitomizes his personal vision of the music.
Each track evokes diverse images and characters, describing a vast range of emotions which, over the thirteen instrumental tracks, move from the hardness of 'The violence Of Truth' to the intimate sweetness of 'My Father's Memories', from the coldness of 'Ice' to the heat of 'First Born'. Orsini writes and arranges all his work as well as playing keyboards and percussion, and two classical musicians (cellist Daniela Di Felice and pianist Simone Di Felice) guest on the last track of the album, the acoustic version of 'The Violence of Truth'. Orsini's technique and energy strike the listener immediately upon hearing the CD for the first time.
'Closer to Home' can be purchased from www.guitar9.com and www.guitareuroshop.com.